"..an impeccably crafted trip through all the ingredients that made rock'n'roll in the first place, from gospel to sweet soul, raw blues to country…Blasting Certified Blue in the car, as I have been for a week, I didn't want it to end. It's that good."
4.5 STARS Noel Mengel, Review of the Week, Courier Mail April 19
"Bits of soul, bits of rock, bits of country bits of gospel, bits of…I could go on, but you get the point. The point is, it's just like one perfect party here."
4 STARS Bernard Zuel Sydney Morning Herald Spectrum, 19 April 2014
"Certified Blue, the new Black Sorrows album is a masterpiece. This is easily Joe's strongest album since 'Hold On To Me' and most passionate since 'Dear Children'."
Paul Cashmere Noise 11, 8 April 2014
"Certified Blue contains some of the best songs Joe and his long-term writing partner Nick Smith, have ever written… The album is a wonderful encapsulation of the talents of a great musician" Brian Wise Off The Record, #1 Top Picks Wise Choice Rhythms Magazine April 2014
4 STARS, The Age EG, 18 April 2014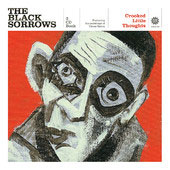 Released 2012
A visually stunning hard cover book 3CD pack by The Black Sorrows. Twenty-four sparkling new songs over three CDs housed in a deluxe book featuring artwork by acclaimed Australian artist Victor Rubin… Music, stories, poems, pictures and art bound together in a stunning hard back version book. Welcome to the Black Sorrows' first album in five years. A collection of Joe Camilleri's Crooked Little Thoughts. The album features a great bunch of new songs that draw on the depth of Joe's experience and influences. On listening you can hear a smattering of The Falcons, the classic country flavoured Sorrows circa 1990 and a good dollop of Camilleri's years of loving the blues.The songs take us on a trip through all of his music loves: pop, rock, blues, jazz, soul, country and gospel.
'In this age of click-and-forget music consumption, Joe Camilleri works old-fashioned magic with this triple-CD labour of love.' The West Australian

'…the album takes us on a thrilling trip to Camilleri's other musical loves, from country to gospel and jazz. "They say that nothing lasts forever," he sings, but this is one for the ages 4.5 stars Stack Magazine

 'Ace players and styles..' 4 stars The Age'… rollicking and blood-pumping live feeling across all 24 tracks…one of the great artifacts of Australian music'WordsAboutMusic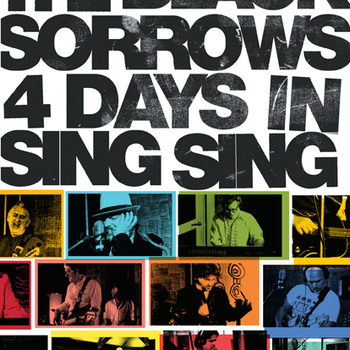 Released 2009
The Black Sorrows' first DVD (+ bonus CD), 4 Days In Sing Sing documents Joe and The Sorrows over four days in Melbourne's legendary Sing Sing Studios, the birthplace of classic Sorrows' albums such as Hold On To Me and Harley and Rose.The documentary was filmed by Director Remo Camerota with Mark Bakaitis, whose plan was to get the band to record seventeen songs in no more than three takes each. The result is what appears to be a spontaneous and fresh performance with the sound that only a proper recording studio can provide. Also included is interview footage of the band, behind the scenes footage, diary notes on the process by Camilleri.
'A fantastic aural document of a band that keeps quietly peaking'
'The Black Sorrows is whatever line-up Camilleri chooses at the time … It is a formidable combination in its own right.' Off The Record